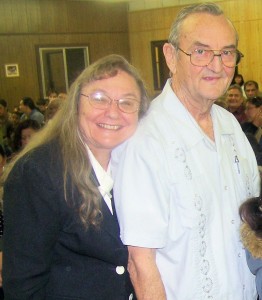 Welcome to the Faith Mission International website We want to invite you to become familiar with our ministry. We are privileged to be God's servants to the people of Mexico. We are continually humbled that we have been chosen to extend His love, His presence, and His life through Jesus Christ to all we come in contact with.
If you are looking for an opportunity to minister in a third-world country, bring a group from your church or ministry on Mexico mission trips, short-term mission trips. We have the place, facility, and opportunity for you to come and impact the lives of others.
We declare that God's vision is the world, He has chosen all of us to go into the world to preach the gospel, make disciples, raise up leaders and plant out new works. Do you want to be part of God's new and fresh movement in Mexico? "Come and See!"
Faith Mission International is a non-profit organization in the US. We are located in Del Rio, Texas, on the border across from Acuña Mexico. We are a mufti-faceted ministry based on evangelism, discipleship, leadership training, planting new works, forming and working in teams, and presenting the gospel of love, power, and God's manifest presence. We believe God has a plan and purpose for every person including you.
Elders & Counselors
Below you will find the names of those who provide a spiritual covering of support, counsel, and direction for this ministry. We endeavor to be faithful and true to the Word of God and the Holy Spirit in all that we are and do here at Faith Mission, however, we value the input of men of God that assist us in fulfilling the Lord's will and purposes for this ministry.
Allen and Charlene Ehlers- Founders
Timothy and Rosa Ehlers – Elders
Pastor Larry Grainger – Elder
Louis Davenport – Elder
Kelly Hudson – Elder
Don Johnson – Advisor and Counselor
Ministry
Faith Mission International is a ministry of God to the Church and to the lost to establish and advance the kingdom of God in the earth. Our ministers are passionately pursuing and seeking the face, presence, and glory of God so that we can shine to the lost and hurting.
Philippians 3: 7-14
We are also: Training and Equipping Missionaries for the Mission Field
Acts 1:8 & 26: 16-19
We are also: Training and Equipping Local Leadership and their Ministries
Ephesians 4: 11-16
We are also: Establishing New Works
Romans 15: 16 – 21
We are also: Remembering the Poor
Psalm 41: 1-3 & Galatians 2: 9-10
We are also: Calling God's People To a Life of Holiness, Faith, and Obedience
I Peter 1: 15-16 & 2:9
Our Desire, Prayer, and purpose as a ministry is to provide and impart the fivefold ministry of Ephesians 4:11; Apostolic, Prophetic, Evangelistic, Pastoral, and in Teaching.
Vision
The Vision & Ministry of Faith Mission International in Mexico.
We are here to help Churches and their groups coming to see what they can do in God's kingdom through missionary work on Mexico mission trips, short-term mission trips.
Our Ministry in Mexico focuses on five foundational aspects of the gospel and the kingdom of God:
Evangelism – Being an effective witness of Jesus Christ and the sharing of the gospel to the lost; with our lives, in word, power, and authority.
Discipleship – The commitment to building personal relationships with one another in order to mentor and disciple others in their growth, maturity, and fruit-bearing life in Christ and in the works of Christ.
Active faith and obedience – All believers, members of the body of Christ are called to have an active faith and faithful obedience to their individual gifts, calling, anointing, talent, and abilities given by God/Holy Spirit.
Identifying and Preparing leaders – To prepare others for the work of the ministry as needed in the church body and/or outside the church body to advance the kingdom.
Planting New Works – The vision, passion, and will of God is for His church to have His world vision of taking the gospel into all the world. This can only be accomplished by the continually sending out others in a new work/ministry.
History
In 1957 Charlene and Allen Ehlers met and married in Japan. Charlene was a missionary with her parents; Allen was in the Air Force. They returned to the USA and completed his Air Force commitment. Afterward, they moved to Seattle while going to Bible School. They also had their own business and started a family with their son, Timothy Ray.
At that time Allen had an opportunity to visit Mexico and Trinidad with the Bible School Dean. He thought, at the time, that this was just a one-time chance to see the mission field there. Returning to Seattle, however, Allen found he could not get Mexico out of his heart. After much prayer and struggling we felt that the Lord wanted us to sell our business and our home and head towards Mexico by faith to see what God would do. Charlene was six months pregnant with Robert who was born in Laredo, TX, and passed away just shortly afterward.
Shortly afterward we went to Mexico for about six months. Not knowing the language was difficult so we came out to study three years of college Spanish in nine months. We then returned to a primitive Mexican village near Cd. Victoria wh the people didn't even use money. We lived in a one-room house without electricity, water, or a bathroom. Our windows were wooden shutters. During this time of living here, we met and won a local young man to the Lord named Julian Moreno who to this very day (40 years later) is a pastor in this same area.
Timothy and Allen both almost died of typhoid fever, Allen contracted hepatitis and amoebic dysentery. Because of all that happened, we returned to the States very discouraged. While on our way to Nogales, Arizona, making one more attempt at missionary work we had four flat tires right out of Del Rio, TX. Limping into Del Rio to fix the tires (2 of which were under warranty), being told that it would only take a few days, and having the new tire delivery delayed daily, a wise pastor said to us, "Maybe God is trying to say something to you so park your little trailer in my trailer park, fast and pray, and see what God says."
This we did and during this time, we were invited to Cd. Acuna, Mexico by another missionary. One of the nights we were in Cd. Acuna a broken-hearted mother brought her little son to us saying, "My son is dying; pray for him," which we did, with all our hearts having lost a son of our own. We did not know at the time that the baby only needed a little bit of food; he was dying of starvation. That night the baby went on to Jesus. Our hearts were broken; we had been too late. God spoke at that time to Allen, "No child or anyone should die of starvation." We were to reach out to these people to meet the needs of the whole man.
Thus Faith Mission was started in November of 1963. Our heart's desire and purpose was to touch these people with the Gospel and to make a real difference in their lives spiritually and physically so that Robert's and this other Mexican baby's death would not have been in vain. For all of these years, we know that many elderly, widows, handicapped, and children have been kept healthy and alive today because we have been here as Jesus' hands extended. Out of this has come many areas of ministry which you can see elsewhere on this website. It has been and is a great journey that we are on for the Lord.
Note: While on the mission field to the people of Cd. Acuña, Mexico, another child was born to the Ehlers, Sheryl Mae on February 14, 1966. Her birth was an answer to prayer and finished up our small family. We worked, played, served, and ministered together. She was a great part of Faith Mission and truly loved Jesus and the Mexican people. Her desire was to make a difference in every person she met, and that she did! Sheryl recently went on to be with the Lord on December 27, 2002, after a courageous battle with cancer.
Works Established in Mexico
An important aspect of the vision, ministry, and work of Faith Mission is the establishing of churches in Mexico. Why? Not because we are commanded by our Lord to build HIS church, but a church is built when we are fulfilling the great command to "go, and preach the gospel." Making disciples of the nations, establishing and setting in order the church (God's people), as God's Word declares. We have been used to establish over 25 works in Mexico to the Glory of God!
Below is a list of other churches in the fellowship and a brief description:
Coni and Nettie Rangel– Iglesia Emmanuel, Ejido Pu`risima
Church Services
Mini Mission 1st of every month
Ignacio and Altagracia Lopez – Misión de Fe, Ejidos Balcones and Margaritas
Church Services
Julián Moreno– Cd. Victoria, Col. Olmo/ Plan de Ayala, Tamaulipas
Church Services
Evangelism
Gerardo and Dulce Hernández, Iglesia Emmanuel, Ejido Buena Vista
Church Services / Prayer
Youth Ministry
Strong Pastoral ministry of families and visitation
Agustín and Alicia Ríos– Iglesia Emmanuel, Col. Benito Juárez
Church Services
Evangelism
Youth Ministry
Strong Men's ministry and discipeship
Javier and Margarita Valdez– Casa de Oración, Col. Eusebio Arispe
Church Services
Armando and Maria Castenala– Ejido Santa Maria.
Church Services
Youth Ministry
Music Ministry
Rene and Hilda Madrigal– Iglesia Emmanuel, Col.Mtz y Mtz.
Pastoring Church / Prayer
Youth Ministry
David and Addy Markham – TBM Mexico
Training Missionaries
Pastora Luna– Iglesia Rey de Reyes, Col. Infonavit (Pastor Rafael passed away 2 yrs ago)
Pastoring Church / Prayer
Youth Ministry